Nightclub Hall of Fame Jason Strauss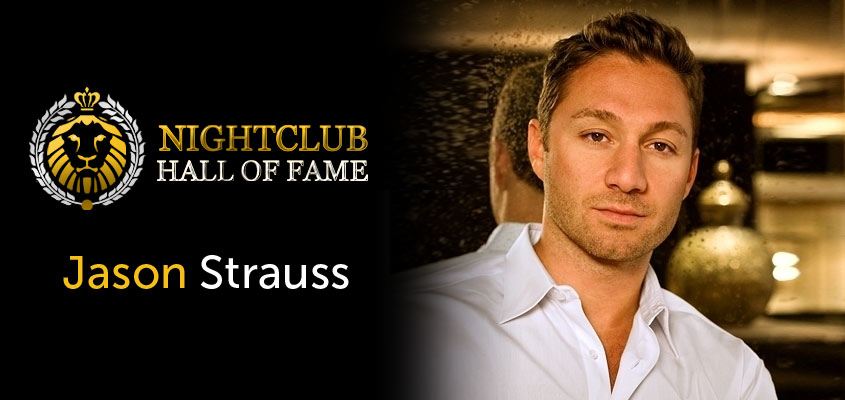 Native New Yorker, Mr. Strauss has many successful endeavors such as Marquee nightclub in New York City, LAVO Italian restaurant and nightclub at The Palazzo Hotel in Las Vegas and most recently, AVENUE lounge in New York City.
In 2001, Jason Strauss, along with partner Noah Tepperberg, formed Strategic Group, a lifestyle marketing, special events, consumer promotions and public relations company. Strategic Group has the unparalleled ability to integrate directly into lifestyle, entertainment, fashion and nightlife programs that create and influence popular culture by creating unique brand experiences for consumers. Since its inception, Strategic Group has established itself as a leader in giving corporations a credible cool factor. Under the direction of Mr. Strauss and Mr. Tepperberg and their partner Seth Rodsky, the company has worked with global brands such as Coca-Cola, Donna Karan, Heineken, LVMH, NASCAR, Under Armour and Yahoo.
Mr. Strauss and Mr. Tepperberg also founded Strategic Hospitality Group in 2003, which offered consumers a premium nightlife experience with his various venues. Some of his current and former boites include: Southampton staples Conscious Point (1999), Jet East (2002), and Dune (2007) as well as Manhattan hot spots Luahn (2000) and Suite 16 (2001). Mr. Strauss is also the mastermind behind two of the most successful nightclubs to open in the past decade – Marquee in New York (2003) and TAO at The Venetian in Las Vegas (2005).
In 2008, Mr. Strauss and Mr. Tepperberg – along with Mr. Packer and Mr. Wolf, opened LAVO Restaurant & Nightclub at The Palazzo Hotel in Las Vegas. In May of 2009 they introduced AVENUE, a gastro lounge, where gastro pub meets ultra lounge in New York's trendy Chelsea neighborhood. In September 2010, they opened LAVO Restaurant & Nightclub in New York. Together with his partners, he opened Marquee Nightclub & Dayclub, an indoor/outdoor club, in the Cosmopolitan of Las Vegas Hotel on New Year's Eve of 2011. In June of 2011 they launched Dream Downtown hotel in NYC where the team operates all of the hotel's food and beverage outlets including room service, Ph-D Rooftop Lounge, Electric Room and Marble Lane Steak Joint. In March 2012, Mr. Strauss and his TAO Group partners launched Marquee at The Star Casino & Hotel in Sydney Australia. On New Year's Eve 2013, Mr. Strauss and his partners will once again raise the bar on nightlife with the relaunch of Marquee New York after a major renovation.
Career successes for both Mr. Strauss and Mr. Tepperberg include receiving the Nightclub & Bar's "Hospitality Operator of the Year" Award in 2006 for their work with Marquee and TAO as well as being honored by the Harvard Business School in March 2009 through a published case study about the dynamic duo¹s myriad of businesses entitled: "Marquee – The Business of Nightlife."
Mr. Strauss currently Co-Chairs, along with singer Tony Bennett, and sits on the Board of the Marty Hennessey Jr. Tennis Foundation which raises money for USTA-Nevada programs and scholarships.
Mr. Strauss graduated from Boston University with a BS in Hospitality Management and Public Relations. He currently resides in Las Vegas.
Facts About Jason Strauss:
Born in NY.
Attended private schools: Dalton, St. David and Riverdale.
Football captain, Riverdale class of '92.
Spends a month a year in Europe, especially Switzerland visiting parents and family.
Plays in Las Vegas tennis summer league.
Source – http://jasonstrauss.com/